MD-UL Universal Ultrasonic Level Gauge
Product Detail
Product Tags
Technical Characteristics:
Optional 4~20mA/RS485 and other output optional GPRS wireless output
Backup and restore setting parameters Arbitrary adjustment of analog output with digital filtering and echo recognition
Can manually set fixed interference filtering function
Support custom serial data format (selected when order)
Supports custom mathematical function operations
MD-UL Universal ultrasonic level meter is a general-purpose ultrasonic level meter. It implements a fully digital, humanized design concept, with perfect material / liquid level measurement and control, human-machine communication and data transfer functions.
The liquid level gauge adopts engineering plastic ABS waterproof shell, and the case is small and sturdy. The main chip uses dozens of related special integrated circuits such as imported industrial-grade, single-chip microcomputers, digital temperature compensation and ultra-wide voltage input voltage stabilization.
The product is rich in functions and can add modules to achieve other functions (such as Bluetooth, GPS communication, etc.) according to customer request. Having strong anti-interference, it can set up and down nodes and online output adjustment arbitrarily, with on-site display, select analog, switch and RS485, interfaces easily with the related facilities.
It has high reliability, no pollution, stable performance, and can meet most liquid level and material level measurement requirements without contacting industrial media. It completely solves the shortcomings of entanglement, blockage, leakage, media corrosion, and inconvenience caused by traditional measurement methods such as pressure, capacitance and float. Therefore, it can be widely used in various fields related to material level and liquid level measurement and control.
Water and wastewater treatment
Pump room, water collection well, biochemical reaction tank, sedimentation tank, etc
Mortar tank, coal slurry tank, butter storage tank, stockyard or some mobile equipment
Electricity, mining Food industry Wineries, granaries, tanks for food materials, etc.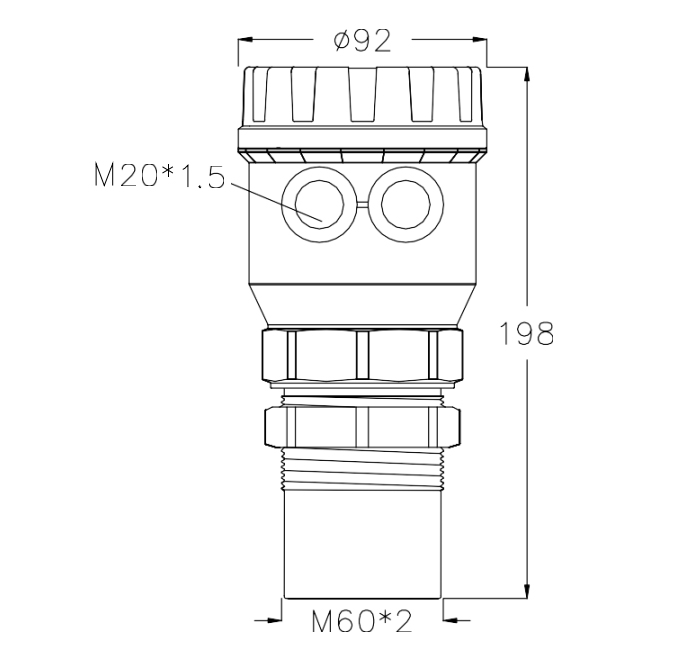 ---
Previous:
High-performance input level sensor
---
Write your message here and send it to us
Products categories