In order to enhance team cohesion, communication and collaboration; improve the awareness of active cooperation and communication skills, to encourage team members face challenge, break through themselves, tap potential, and release passion; deepen the corporate culture "MING IN HEART, KONG IN ACT"meanwhile, enrich employees' spare time. Shanghai Meokon Sales Department held a two-day team building activity in September 2020.
On September 19, all sales department employees of came to Suzhou Taihu Sanshan Island, launched an autumn expansion activity with the theme of " Coagulation hearts meet force Create brilliant, Innovate and Strive". This activity played a good role in enhancing team cohesion, Strengthening the communication and exchanges between team members has played a good role in promoting.
After completing the joyful cycling around the island, the team building officially kicked off. After that, we started the cliff downhill relay competition. According to the coach's arrangement, we conducted a timed PK between the two teams. The cliff descent not only reflects the assistance ability between team members, but also enables individuals to better break through themselves; there are teamwork and competition.
Cycling around the island
Cliff rappelling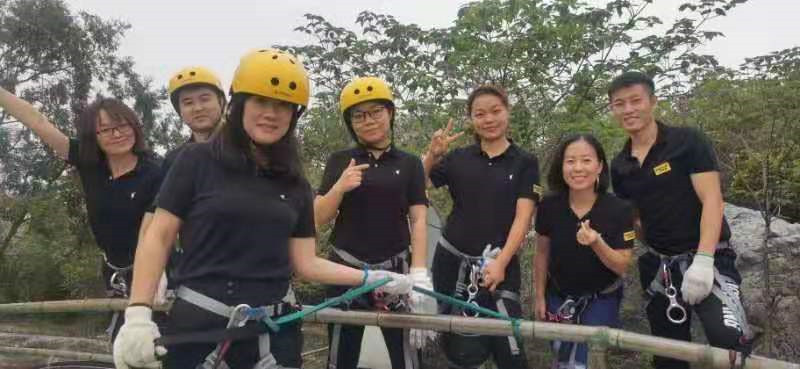 In addition to the cliff downhill relay, we also played other team competition games-"Magic Circles". During the game, some people are responsible for on-site exercises, some are responsible for arranging the implementation steps, some are responsible for reminding precautions, and some are responsible for taking pictures and videos... All links are carried out in an orderly and fun way. Eventually as the game was completed, the team members also increased their mutual trust and understanding in cooperation.
After the game, we not only have rewards but also punishments.
There is a surprise in the red envelope
Shiatsu penalty
End of the daytime game activities, the evening is our leisure and entertainment time, barbecue: skewers, playing cards, singing; relaxed and happy.
After finishing the activities of the first day, we came to the Taihang Mountain on Sanshan Island the next day. While enjoying the beautiful scenery, we also listened to the history and culture of Taihang Mountain explained by the guide.
The two-day team building activity ended perfectly. The team building strengthened communication and exchanges between colleagues, enhanced cohesion within the department, at the same time, it is also an experience of teamwork ability.
---
Post time: Feb-22-2021