The MD-L series low-power level gauge is a low-power level gauge product specially developed by Shanghai Mingkong for the application environment of the Internet of Things, all of which are suitable for battery-powered and cycle-powered working methods.
This series includes Modbus RTU protocol RS485 output products and 0.5-2.5V output level sensor products.
MD-L100 is a level gauge based on the principle of static pressure. The power supply is 3.3V, the output is 0.5-2.5V, and the peak working current is 0.9mA. The appearance is the same as that of a conventional level gauge.
This series of products is particularly suitable for applications in the smart IoT industry such as fire fighting water pipe network, water supply, heating and so on.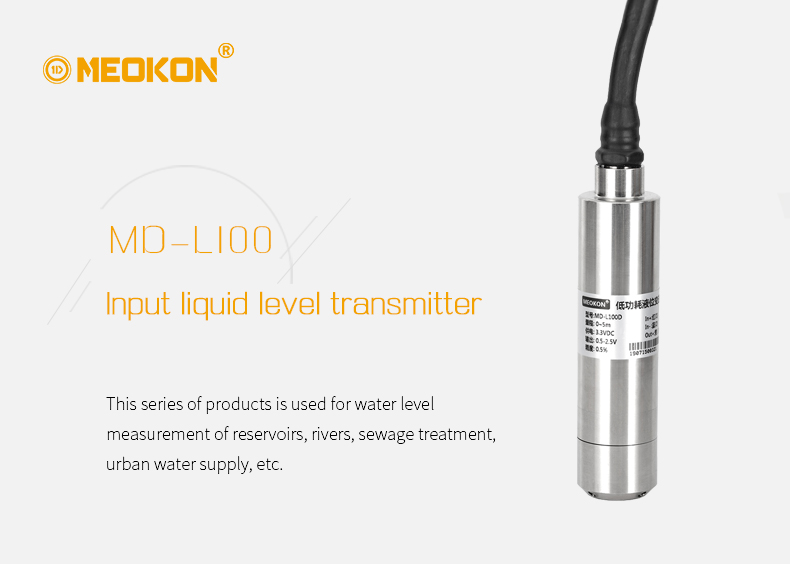 Applications:
Fire water pipe network
Heating
Smart Water
Medical equipment
Technical characteristics:
Low power consumption design, 3.3-5V power supply, support battery power supply
Suitable for power management, stabilization time is less than 50ms
Voltage type and RS485 digital type output optional
304 stainless steel housing and connectors, 316L stainless steel diaphragm, strong media compatibility
0~1…2…5…10…50m water can be customized
Specification: 
| | |
| --- | --- |
| Range | 0~1…2…5…10…50m water |
| Acc. | 1%   0.5% |
| Output | 0.5-2.5V |
| Power supply | 3.3V~5V |
| Overload pressure | 200% |
| Working current | 1.7mA(max) |
| Long-term stability | ±0.2%FS/year (typical value) |
| Stability time | <50ms |
| Working temperature | -20~60℃ |
| Compensation temperature |  0~60℃ |
| Electrical protection | anti-electromagnetic interference |
| Waterproof rating | Ip68 |
| Installation method | throw-in |
| Cable material | polyurethane |
| Cable length | length can be customized |
| Shell material | 304 stainless steel |
| Certification | CE |
---
Post time: Sep-22-2021