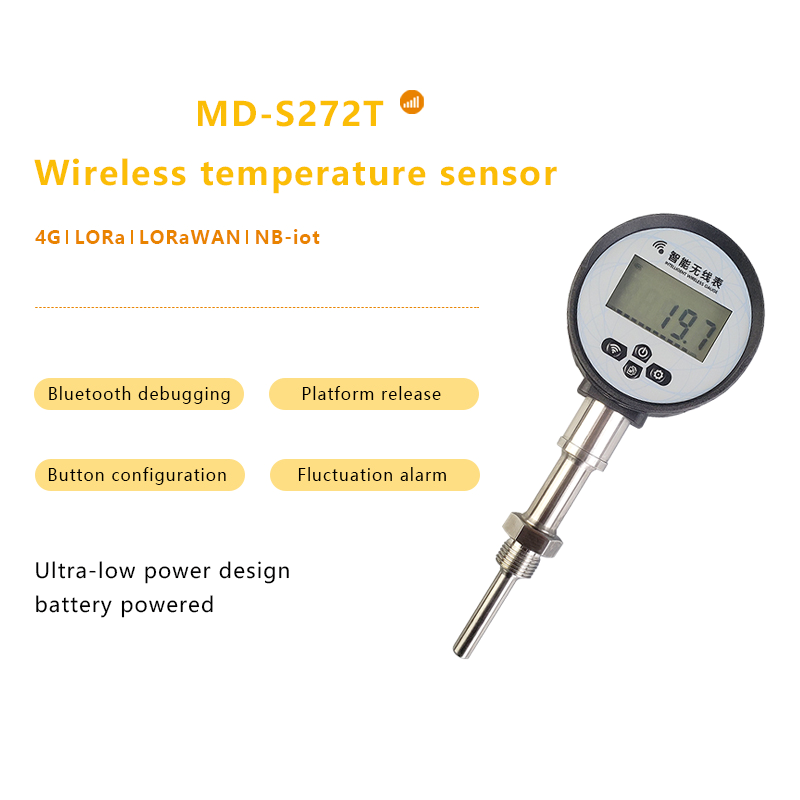 MD-S272T wireless digital thermometer is a battery-powered digital temperature sensor with wireless digital output. It can be equipped with GPRS or LORa-iot, NB, ZigBee and other wireless communication methods.
The built-in high-precision temperature sensor can accurately display the temperature value in real time, and has the characteristics of high accuracy and long-term stability. This digital thermometer is equipped with a large LCD display, a built-in MCU, and a low-power design. The product uses a high-strength nylon shell and a 304 stainless steel connector. Good shock resistance, capable of measuring gas, liquid, oil and other non-corrosive media to stainless steel.
The product has practical functions, real-time display of the current temperature, the upload rate is adjustable from 1 minute to 24 hours, and alarm points can be preset. Once the alarm pressure is triggered, the alarm data will be sent in time.
Specification:
Range: -50…0~50…100…150…400℃
Accuracy : 1%FS
Operating temperature: -20~60℃
Supply voltage: ER34615H
Sampling rate: 3 seconds by default, 1~60 seconds/time can be set
Sending rate: 10-9999 minutes can be set
Alarm mode: low alarm, high alarm/fluctuation alarm
Alarm value setting: 10%~90% of range
Dial display: LCD liquid crystal display
Interface thread: M20*1.5 G1/2 or other standard threads
Interface material: 304 stainless steel
Shell material: reinforced nylon
Measuring medium: oil, water, gas and other non-corrosive medium
Storage temperature: temperature (-40~80℃) humidity (0~95%RH)
Product weight: <0.5kg (including accessories)
Product accessories: 1 ER34615 battery (battery type)
Technical characteristics:
GPRS/LORaWAN/NB-iot, ZigBee wireless communication signal optional
High-strength nylon shell, ultra-low power consumption design
Sending frequency, high and low alarm value, adjustable by button, can be set from 1 minute to 24 hours
3.6VDC power supply/battery power supply
Application:
It is especially suitable for areas that require unattended and remote monitoring, such as urban pipe corridors, fire-fighting pipelines, fire-fighting terminals, fire-fighting pump houses, and petrochemicals.
---
Post time: Jul-19-2021