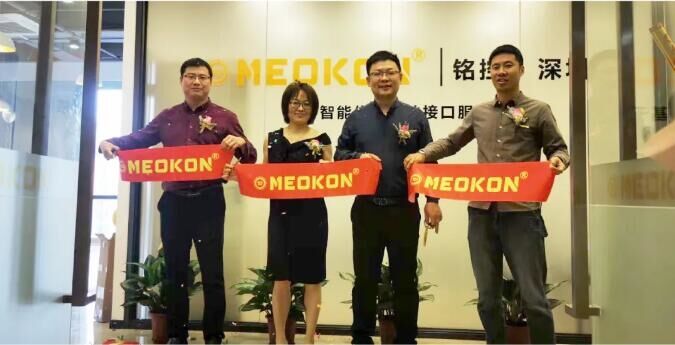 On the morning of December 13, the Shenzhen subsidiary of MEOKON Sensor Technology (Shanghai) Co., Ltd. held an opening ceremony. Mr. Andy, general manager of Shanghai MEOKON, Mr. Qiu, general manager of Chongqing MEOKON, and Mr. Ren, general manager of Shengzhou MIND attended the unveiling and ribbon cutting of Shenzhen MEOKON.
Shenzhen MEOKON was established in May 2020 and is the third subsidiary after Chongqing MEOKON and Shengzhou MIND. The establishment of the subsidiary is an important step of MEOKON's market strategic layout and will assume the head office's important role in the South China market.  He will follow the business philosophy and management mechanism of "Shanghai MEOKON" to actively expand business and deepen localized services.
We believe that with the blessing and empowerment of multiple resources from the headquarters, Shenzhen MEOKON will definitely provide customers in southern China with high-quality results and service, and will add to the bright future of MEOKON. The company will also continue to implement the strategy of "planning, scientific and technological support, and national layout".
Here, we sincerely hope that Shenzhen MEOKON, under the leadership of the general manager Ms. Amber, will forge ahead, establish MEOKON technology brand and industry influence in southern China, and contribute the wisdom and strength of MEOKON people to local enterprises and economic development.
Let us bless Shenzhen MEOKON: a good business! Grand plan! Prosperous performance! All employees of Shenzhen MEOKON will be full of enthusiasm and sincere service attitude, waiting for new and old customers to visit and guide the work on site!
Address: NO 1220~1222, ECO International, Building 8, Xiangbinshan, Zhongxi, Xixiang Street, Baoan District, Shenzhen City 
---
Post time: Feb-22-2021